School buildings deals announced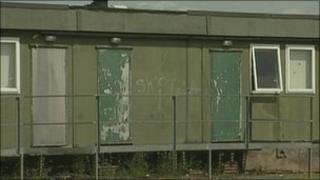 The first two multi-million pound contracts have been awarded for England's new school building programme.
Building firms McAlpine and Wates won contracts from the Department for Education to build or renovate schools in the north of England and Coventry.
Work is expected to start in the spring, officials say.
The contracts were awarded under the £2.4bn Priority School Building Programme.
This partly replaced the Building Schools for the Future (BCF) scheme which was scrapped by the coalition, which said it was bureaucratic and wasteful.
The cancellation of the BSF scheme meant hundreds of projects were shelved and this drew strong protests from councils and schools.
McAlpine won the contract for the first group of schools in the North East, Yorkshire and Humberside.
It is worth about £64m and under it nine schools will be rebuilt or refurbished.
The schools are in Durham, Gateshead, Sheffield, Stockton-on-Tees, Sunderland and East Riding.
'Worst condition'
Wates successfully bid for a £36m contract in Coventry, which will mean new buildings for four primary schools, one secondary and one special school.
Schools Minister David Laws said: "We are delighted to confirm the first two contractors who will work with us on our £2.4bn Priority School Building Programme.
"This programme will provide new or refurbished school buildings for the children being educated in those schools that are in the very worst condition."
Contracts for six other areas are still to be awarded.