English GCSEs: Ofqual to reveal findings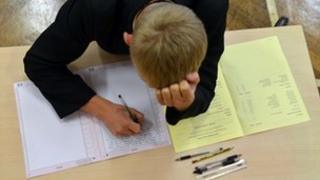 England's exams watchdog, Ofqual, is to set out its initial findings into the row over English GCSEs.
Head teachers urged the exams regulator to investigate when it was revealed that grade boundaries for the exams were changed part way through the year.
Many pupils who were expecting a crucial C grade were given a D as a result.
This year's GCSE results showed the first fall in the A* to C grades since they were introduced.
The National Association of Head Teachers wrote to Education Secretary Michael Gove and Ofqual chief executive to call for an inquiry.
'Quickly, but thoroughly'
Ofqual's Glenys Stacey agreed to investigate saying there were "questions" over how grade bands were set.
She added that this would be done "quickly but thoroughly".
The Association of School and College Leaders (ASCL) also said it was "not afraid" to take legal action against exam boards over the grade boundary reform.
It came after exam boards acknowledged that boundaries had been moved by as much as 10% part way through the year.
Teaching unions say it is unfair that pupils sitting the exam in June were marked more harshly than pupils who took it in January.
In GCSE English, 63.9% of entries this year got at least a grade C, compared with 65.4% last summer. Some 15% were awarded an A or A*, down from 16.8% in 2011.
In English literature, 76.3% of exams were awarded A*-C, compared with 78.4% last year, and 23.2% got at least an A, against 25% in 2011.
Head teachers and a leading academy chain suggested certain groups of students may have been particularly affected by the changes.
Ms Stacey pledged to look at the detail of grade C boundary changes to ensure confidence was "maintained" in the examinations system.
Figures supplied by ASCL suggested that a quarter of all secondaries in England and Wales had been affected, with complaints from elite independent schools starting to filter through.
Obtaining a C-grade in the core subject of English is crucial for pupils wishing to go on to further education college or sixth form to study A-levels or other qualifications such as BTecs.
And the concern over English results is particularly pertinent because this year, schools in England have to ensure that 40% of their pupils reach the government benchmark of five A*-C GCSEs, including maths and English.
This is one of the measures used to decide whether schools should be taken out of local authority control and pushed into academy status. The other two measures relate to pupils' progress.