Few students 'trade up' university places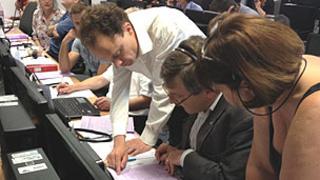 Fewer than 0.3% of students getting places used the system allowing those who surpass their expected exam results to "trade up" to another university.
Although higher than last year, only 1,138 students have found places in the "adjustment" process, out of 408,000.
Updated admissions figures also show the number of students withdrawing applications has risen to nearly 9,500 - a jump of 17.5% over last year.
The figures from Ucas show there are still more than 200,000 without places.
Students apply on the basis of predicted grades - and the "adjustment" system was intended to make it fairer by allowing pupils who outperformed their expectations to change their university choices after A-level results.
But it appears that relatively few students have used this to find different places with their higher grades.
Figures on Tuesday showed there were 1,138 who had found places through adjustment, 621 more students than at this stage last year.
'Shopping around'
The Ucas admissions service has been publishing updates on the remaining university places, after A-level results were published last Thursday.
The latest figures for Tuesday show that there are now about 27,000 students who have gained places through clearing, which is the system which matches applicants with any available places.
There are still 55,000 pending decisions - either where the university is pausing to decide whether to accept a student or where the student has yet to accept an offer.
Carl Lygo, head of BPP University College, suggested on Monday that students this year were "calling the shots" as they shop around for places.
This year's intake of students in England will be the first facing tuition fees of up to £9,000 per year.
There have also been claims that some universities, struggling to fill places, are having to launch advertising campaigns to recruit students.
So far the number of accepted places is about 6% down on this point last year.
There are also about 14% fewer people eligible for clearing than at this stage last year.
This should mean a higher proportion of applicants getting places, according to the admissions service.
"We expect the overall acceptance rate for applicants to rise," Ucas chief executive Mary Curnock Cook had forecast on Friday.
But the number of students who have yet to find a place is still greatly outnumbering the likely vacancies.
There are still more than 200,000 applicants without a confirmed place - which is likely to be double the available remaining number of places.
As in previous years, there will be tens of thousands of applicants who will not be able to find a place on any course.
This year has seen changes to the admissions process - with universities allowed to recruit an unlimited number of students with AAB A-level grades or better.
Even though many universities are not using this flexibility there had been uncertainty about how this might affect the allocation of places.
But with top A-level grades falling slightly, there are fewer students with these AAB grades than expected - and not all of the anticipated extra places have been filled.
The A-level results published on Thursday showed a slight fall in the proportion of entries gaining the top A and A* grades - the first such decline in 20 years.