Academic condemns academy expert teacher ruling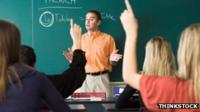 An education expert has condemned a government decision to let academies in England hire unqualified teachers.
Professor Chris Husbands, director of the Institute of Education at London University said the plan contradicted national and international evidence.
Last week, ministers said academies could hire staff who were experts in their field, even if they did not have qualified teacher status (QTS).
The government says the new rules will help school to improve faster.
Ministers say it will allow these schools to hire professionals who are experts in their field, such as scientists, engineers, musicians and linguists who may not have QTS.
But the decision angered teaching unions, who said pupils should be taught by qualified teachers.
Teacher quality
In his blog , Prof Husbands cites the 2010 White Paper, called the Importance of Teaching, which says international evidence shows "the most important factor in determining the effectiveness of a school system is the quality of its teachers".
Prof Husbands says: "The decision to remove the requirement that those teaching in (publicly-funded) academy schools should have qualified teacher status flies in the face of evidence nationally and internationally."
"Internationally, the evidence is strong: the status of the teaching profession is related to the quality and status of initial teacher education."
Prof Husbands says, in England, partly due to recent reforms, this training is "rigorous, relevant and of high quality".
"There is simply no research evidence at all to suppose that lowering the bar and recruiting significant numbers of unqualified teachers will do anything other than lower standards.
"Teaching is a complex, higher order skill and it depends on high quality training."
Urging ministers to reverse the move, Prof Husbands adds: "The government's decision is at the very least regrettable. It will do nothing to raise standards and nothing to enhance the status of teaching as a profession."
'Flexibility'
A spokesman for the Department for Education said: "We expect the vast majority of teachers will continue to have QTS, and no existing teacher contract is affected.
"Independent schools and free schools can already hire brilliant people who have not got QTS, and we are extending this flexibility to all academies so more schools can hire great linguists, computer scientists, engineers and other specialists who have not worked in state schools before.
"This additional flexibility will help schools improve faster."