A-level points system likely to be scrapped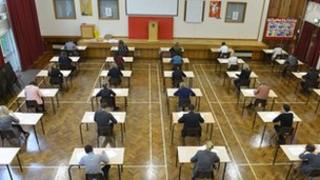 The points-based system used by pupils applying for degree courses is likely to be abolished, after the move gained support from universities and schools.
Research by the admissions service Ucas indicated about two-thirds supported plans to drop the tariff system.
In its place, universities would ask students for specific qualifications and grades when offering places.
A consultation on the system was put out by Ucas earlier this year. A final decision will be made in the autumn.
The current system, which has been in place for more than a decade, issues a points score to A-levels and other courses.
These points are then used by universities to make offers to students.
However, there have been concerns university applicants now have a wider range of qualifications than ever before and some of these are not recognised by the current tariff.
It has also been suggested the tariff system does not reflect how a particular qualification could be more appropriate for some degree courses than others.
Consultation results
Universities, schools, awarding bodies and government, regulatory and funding bodies all submitted replies to the Ucas consultation.
In total, 63.5% of all of those who responded were in favour of dropping the current tariff system.
About 16.1% of respondents were against the proposal.
Among universities alone, more than two-thirds were in favour of moving away from the tariff system.
Many of these institutions already made grade and qualification-based offers, the consultation found.
The Ucas report said: "It was widely felt that qualification and grade-based entry requirements and offers are clearer and more transparent for learners and offer those higher education providers who actively select applicants for their courses greater control over admissions."
But there were also fears that scrapping the tariff system could narrow students' choices at A-level and mean schools focus on exams that will win students places.
This could mean putting academic qualifications above vocational ones.
The Ucas report acknowledged qualification and grade-based offers "could lead to a narrowing of the pre-university curriculum, as schools and colleges prioritised the delivery of those qualifications and subjects that most commonly featured in higher education requirements".
The current system was designed at a time when A-levels were the main entry standard for university, but now it is thought about half of UK students apply with other qualifications.
The change comes months after proposals to allow students to apply for degree courses after getting their A-level results were ditched.
Ucas said there were "insurmountable difficulties" with a post-results system, because of differing term times and exam dates throughout the UK.