English and maths 'to be taught up to 18'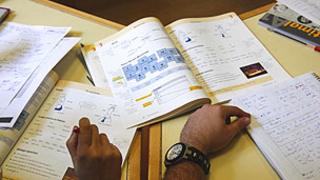 Pupils in England who fail to achieve at least a C grade at GCSE in English and maths will have to carry on taking the subjects to the age of 18, the government has announced.
This follows concerns too many teenagers leave education without adequate skills in literacy and numeracy needed by employers.
It will see some pupils re-taking GCSEs and others taking less demanding tests, aimed at improving basic skills.
This will apply from September 2013.
The changes are set out in a written ministerial statement from Education Secretary Michael Gove.
Leaving age
Alongside high levels of youth unemployment have been complaints from employers that too many youngsters lack basic skills needed to make them employable.
The statement quotes a CBI survey saying two in five employers were not satisfied with literacy levels among school leavers.
It also follows the report from Professor Alison Wolf which warned some pupils were being diverted into cul-de-sac vocational qualifications - when they lacked the basic skills they most needed.
More than 40,000 youngsters a year reach 19 without having had any further lessons in English, after failing the subject at 16, says the Department for Education.
For maths, the figure is more than 60,000 each year.
The changes, linked to raising the leaving age for education and training, will mean youngsters in the education system beyond 16 will be expected to reach an adequate level in maths and English.
Those who have already achieved a grade C or above at these subjects will be unaffected.
And in a detail which may indicate the proposed return of the O-level, supporting notes mention GCSE grades but the ministerial statement talks only about a "good pass".
For those with near-miss D grades, there is an expectation pupils will re-take to get to a C grade or higher.
For those who have weaker skills, there will be other tests or lessons which might not lead to a qualification.
The plans are underpinned by a funding change.
"Rather than funding per qualification, we will fund institutions 'per student'," says the ministerial statement.
As an interim measure, and recognising the concerns of more academic schools, the statement promises a three-year guarantee of no cuts in per-student funding for individual institutions.
But Labour's education spokesman, Stephen Twigg, accused the government of watering down the plans to raise the participation age in education and training.
In another written ministerial statement, Mr Gove said employers will not be expected to check on whether their teenage staff are fulfilling training requirements.
This will be reviewed - but will not be part of the first wave of implementation in 2013, when the leaving age is raised to 17.
The statement says it follows concerns employers might be deterred from employing teenagers if it meant extra duties and the risk of sanctions.
The Department for Education said enforcement remained the responsibility of local authorities.
Mr Twigg said the change represented "another blow for young people".
"If the government is serious about raising the age at which young people leave education, they should implement the measures included in the legislation Labour introduced such as requiring employers to check a young person is enrolled on a course before employing them and arrange work to fit round education or training."
Under the proposals, the process of raising the compulsory age for education and training to 18 will be completed in 2015.
It will address the high drop-out rate at the age of 16 - a measure in which England's school system has lagged behind many other industrial countries.