Pupil behaviour improving, suggests teacher survey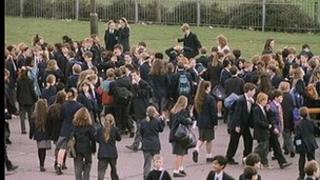 Pupil behaviour is better than four years ago, suggests a government survey of teachers - but a quarter still say it is not good.
The survey of 1,600 teachers found three in four teachers (76%) rated behaviour as good or very good, a six percent rise on a 2008 study.
But 6% said it was poor or very poor and three fifths said it was driving out some teachers.
Schools Minister Nick Gibb said he was committed to improving behaviour.
The survey, which was commissioned by the Department for Education, revealed teachers were increasingly positive about classroom behaviour, particularly in primary schools.
In secondary schools 8% of teachers said behaviour was poor or very poor against a figure of 5% for primary teachers.
The majority (85%) said they felt well equipped to deal with unruly behaviour.
Reward system
Half of those polled said appropriate training was available to teachers who struggled to manage difficult pupils.
The survey also revealed teachers were using praise and rewards to reinforce good classroom behaviour.
Some 91% of those questioned said they praised pupils for good conduct and 82% said they used a reward system.
Other popular methods of classroom control included displaying the rules in the classroom (65%), using a seating plan (65%) and giving feedback on behaviour to parents.
The government has introduced measures to deal with poorly behaved pupils including scrapping the 24-hour notice period for detentions and giving teachers more powers to search pupils.
Mr Gibb said: "The majority of pupils are well behaved and want others to behave well too.
"This survey shows the encouraging effects of the government's reforms - and that schools need to continue their focus on behaviour."
He added that the government's aim was to improve behaviour in schools "until every school is a safe and happy place in which pupils can excel academically."
Government advisor on behaviour Charlie Taylor said: "I am encouraged to see that teachers are feeling more in control of the classroom but more still needs to be done.
"We need to ensure trainee teachers are equipped with the right training in behaviour management."