Ofsted to review educational achievement in poor areas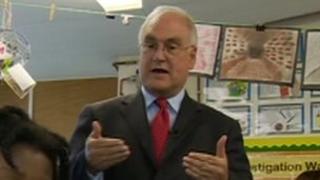 The chief schools inspector in England, Sir Michael Wilshaw, has launched a review of the educational achievements of the poorest communities.
The review will aim to find radical solutions to "long-standing and deep-seated" educational problems in deprived areas.
Sir Michael told a conference that previous reports had painted a "bleak picture of underperformance".
He called on educational leaders to help "change the learning landscape".
Sir Michael told the annual conference of the National College for School Leadership in Birmingham that he recognised there had been big improvements in areas such as London, and among some ethnic minority groups, in recent years.
But he said the gap in educational achievement between rich and poor was "still far too wide".
Sir Michael referred to two reports produced by Ofsted 10 and 20 years ago, entitled Access and Achievement in Urban Education.
He said the first described the lack of educational success and paucity of good-quality provision in deprived communities, and 10 years later the second showed little improvement.
Sir Michael added: "I am asking the education leaders of this country to take ownership of the situation and show the leadership needed to change the learning landscape.
"Everyone who agrees that all children deserve a good education needs to work in partnership to introduce the radical solutions needed today to make a real difference for the children of tomorrow."
Key issues
Ofsted said the review panel of the new report would include leading head teachers and academic experts.
They will focus on five key issues, among them how parents and educators can ensure the best possible start for pupils; why some children and young people are more affected by socio-economic and educational disadvantage than others; and how to learn from the most effective schools.
The report will be published in May 2013.
Brian Lightman, General Secretary of the Association of School and College Leaders, welcomed the pledge to involve teaching practitioners in the inquiry.
"Teachers and school leaders are already leading the efforts to change the learning landscape, and we have asked the government time and again to involve them in finding solutions at a national level, rather than treating them as part of the problem," he said.
Russell Hobby, General Secretary of the National Association of Head Teachers, said: "The NAHT believes that every child should have a good education and welcomes recognition of the heroic efforts of some schools in our most deprived communities to ensure this."
Christine Blower, general secretary of the National Union of Teachers, said that the review must look at "life outside as well as inside the classroom" as recent poverty statistics showed that "life opportunities of children from disadvantaged backgrounds are being severely closed down".
She added: "To counteract such disadvantage, schools need to have the funding and resources to ensure that all their pupils succeed."
The charity Teach First, which recruits high-flying graduates to teaching in disadvantaged areas, said a system-wide transformation was needed to allow young people from the poorest communities to "achieve on a par with their wealthier peers".