Maths A-level exam paper scrapped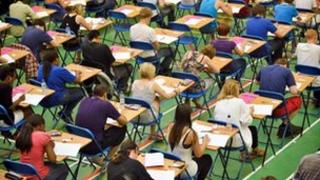 A maths A-level exam paper due to be taken next week has been scrapped because of fears of a security breach.
Edexcel says that its maths paper due to be taken on 21 June will now be substituted by another paper.
There were fears that copies of the planned maths paper had been made accidentally available to schools preparing for exams in Egypt.
"We are confident that no student will be unfairly advantaged or disadvantaged," says the exam board.
The exam board says it will be contacting schools on Wednesday.
A statement from Edexcel said: "On Monday, we were made aware of a potential security breach relating to some of our exam papers.
"The British Council, which is responsible for administering Edexcel exams in Egypt, had accidentally sent a small number of live exam papers to schools, inside sealed packets of past exam papers."‪
'Precaution'
The exam board said it had not been satisfied that the paper remained secure.‪
"For that reason, as a precautionary measure, we have decided to use a replacement paper, which we always have available for such situations."
"While there is no firm evidence that the paper has been shared with those unauthorised to see it, we believe our decision is in the best interests of schools and students," said the exam board.
Mark Stephens, the British Council's director in Egypt, said: "We take the security of our exams operation extremely seriously, and deeply regret this error.
"We acted as soon as we became aware and, as a result, we can be certain that no exam candidates will either benefit or be disadvantaged.
"We deliver 80,000 exams in Egypt every year - this has never happened before, and we're already taking steps to ensure that it doesn't happen again."
Last year's summer exam season saw a number of mistakes in exam papers, which put the exam system under scrutiny.
The errors ranged from printing errors to wrong answers in a multiple choice paper and impossible questions.