Global cuts 'will reverse progress on child poverty'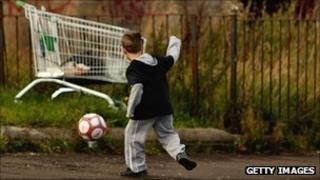 Government spending cuts will reverse progress made on tackling child poverty, a report for children's charity Unicef warns.
The report on 35 wealthy countries says the UK did better than many others at protecting children from the impact of the global financial crisis.
Unicef warns poverty puts children's future health, education and employment prospects at risk.
Ministers say they are investing in early years to tackle child poverty.
The report highlights the UK's success in reducing child poverty to date, saying it is linked to the previous Labour government's focus on increasing household income.
'Measure of cohesion'
Tax credits, cash transfers and accessible public services played a key role in reducing child poverty in the UK and protecting children from deprivation, it finds.
Even though the UK missed its own targets to reduce the number of children living in poverty to 1.7m in 2010, it still saw one of the largest reductions following government intervention, it says.
The report also warns that in a downturn, the first thing to happen is that children drop off the policy agenda.
It added: "Yet it is arguable that the child poverty rate is one of the most important of all indicators of a society's health and well-being.
"For the here and now, it is a measure of what is happening to some of society's most vulnerable members.
"For the years to come, it is a pointer to the well-being and cohesion of society as a whole."
Basic requirements
Unicef chief executive David Bull said: "The UK should be proud that our commitment to end child poverty by 2020 in the past has seen a clear improvement in reducing child poverty and protecting vulnerable children from deprivation.
"However, we know that the number of children living in poverty in the UK is set to increase due to spending cuts.
"This will be a catastrophic blow to the futures of thousands of children, putting at risk their future health, education and chances of employment."
There is no overall ranking of one country against another, rather performance on a number of measures is compared.
The UK comes second only to Sweden in protecting children in jobless households and ninth in the report's table for the lowest percentage of children classed as deprived by its own deprivation index.
This relates to what Unicef describes as 14 basic requirements of children including access to suitable books at home, three meals a day and money for school trips.
Early years
A spokeswoman for the Department for Education said: "We are pleased that Unicef's conclusions affirm the investment this government is making to improve education and early intervention as fundamental to tackle child poverty.
"That's why, despite a tough financial climate, we are putting more money into early years and nursery education than ever before.
"We have set out clear plans to support families to give their children the best start in life."
Fifteen hours of nursery education for three and four-year-olds and disadvantaged two-year-olds, trials of parenting classes and the pupil premium for disadvantaged pupils were all aimed at tackling child poverty, the spokeswoman said.