Baby Peter social workers lose tribunal appeal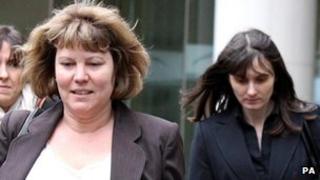 Two of Baby Peter's social workers have failed in their attempt to overturn an employment tribunal ruling that they were fairly sacked.
Gillie Christou and Maria Ward were Peter Connelly's social workers at the time he died from horrific abuse in his London home at the age of 17 months.
Their employers, Haringey Council, said they had made a serious error of judgement.
Crucially, it said they had not tracked where he was for 12 days.
The Employment Appeal Tribunal in central London ruled against the social workers.
It heard that for nearly two weeks, the Haringey Council workers accepted the word of his mother, Tracey, that he was with her visiting an uncle in Cricklewood.
In reality, it is thought he was at home, with serious injuries and being kept from the eye of social workers.
Peter was found dead in a blood-stained cot in August 2007, with more than 50 injuries, despite being on the at-risk register and receiving 60 visits from social workers, police and health professionals over eight months.
His mother was jailed in 2009 after admitting causing or allowing his death.
Her boyfriend Steven Barker and their lodger, Jason Owens, were found guilty at the Old Bailey of the same charge.
Ms Ward and Mrs Christou were trying to overturn a 2010 Watford employment tribunal ruling that they were fairly sacked by Haringey Council.
Their lawyers argued that they suffered "double jeopardy" because they faced two Haringey misconduct panels nearly two years apart looking at the same allegations.
The first hearing led to written warnings, but they were fired after the second hearing after more information was said to have come to light.
Ms Ward was Peter's nominated social worker at Haringey Council from February 2007 until his death and Mrs Christou was her team manager.
In May 2010, a General Social Care Council disciplinary committee suspended Ms Ward for two months and Mrs Christou for four months - on top of a 16-month interim suspension ahead of the hearing - for their misconduct in the case.
They admitted failing to ensure Peter was visited regularly enough, not keeping adequate records and losing contact with him for a time.
'Under-resourced'
Their lawyers have argued that social workers in Haringey were "under-resourced and under-supported" at the time of Peter's death.
After the ruling on Friday, they said the women planned to appeal.
Solicitor Riz Majid said: "Maria Ward and Gillie Christou are disappointed by the result.
"We will be studying the judgment carefully with a view to going to the Court of Appeal."