Diamond Jubilee: Luv'lee Jub-lee menu for Queen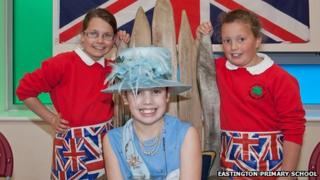 "Beefeater's Delight", "Golden Carriages" and "Luv'lee Jub-lee Bub'lee" will be served to the Queen for her Diamond Jubilee.
The recipes were created by schoolchildren in response to a challenge from the Duchess of Cornwall to create a modern menu for the Queen.
Winners will go to Buckingham Palace to help prepare and serve the food.
Competition organiser Alexia Robinson said: "We are hugely impressed by the very high standard of the menus."
The Duchess of Cornwall came up with the idea to ask schoolchildren to create a modern equivalent of coronation chicken, a dish invented almost 60 years ago for the Queen's Coronation banquet.
The competition asked children to create dishes based on food produced in their part of the country.
The organisers said the children came up with a " wonderful array of dishes drawing upon local produce... with a royal theme."
'Diamond Slippers'
The dishes include anchovy biscuits with asparagus spears, Beefeater's Delight (duchess potatoes with horseradish and Gloucester beef), and figs with Argyll ham and Isle of Mull blue cheese.
Among the sweeter dishes are Luv-lee Jub-lee Bub-lee (elderflower, strawberry and champagne soup), Golden Carriages (filo pastry filled with diced apricots, pistachios and honey) and Diamond Slippers (cake and sugar paste slippers studded with edible diamonds).
More than 200 schools sent in entries and the four winners were chosen by Mark Flanagan, the royal chef.
He looked both at the recipes the children created and the amount of research they had done into local produce and its royal connections.
The four successful schools are Cape Cornwall School near Penzance, Latimer Arts College near Kettering, St Columba's Primary School from Oban in Scotland and Eastington Primary School from Gloucestershire.
Each school will send a team of eight pupils to Buckingham Palace. They will spend the day helping set up the reception and prepare the food, before serving it to the Queen and her guests.
The competition was run by British Food Fortnight, a national celebration of British food and cooking which is supported by the Duchess of Cornwall.
Organiser Alexia Robinson said: "Professional chefs across the country wanting to offer Diamond Jubilee menus in their pubs, hotels and restaurants could draw inspiration from what the children have come up with.
"Everyone involved is looking forward to seeing the children's menus prepared for the Queen and it is great that the children are coming to Buckingham Palace to help."