Keele University joins US admissions system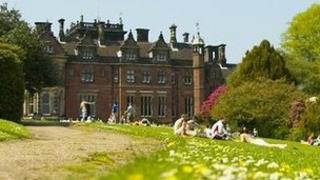 Keele University has become the first English university to join the Common Application system for university admissions in the United States.
Keele will allow US students to apply for places using the same form as the likes of Harvard, Yale and more than 450 other institutions.
St Andrews in Scotland is already part of this US applications process.
Widening its appeal to students in the US is the "next stage of our evolution," says a Keele spokesman.
Global campus
This latest example of the internationalisation of higher education will mean that Keele will be part of a standardised application system used by many US universities.
It will mean that students in the US can apply to Keele through this system rather than the Ucas admissions system used by universities in the UK.
"The university is committed to broadening its international standing," said Keele spokesman John McCarthy.
"We believe that a British degree is recognised around the world for its quality and we are excited about providing opportunities for American students."
The lucrative overseas student market has become increasingly financially important to universities.
This move by Keele - linking up Route 66 with the M6 - is another reflection of the globalisation in universities - in terms of competition, staffing and research.
The Common Application system, which is not-for-profit, was set up by a small group of universities in 1975 - and has expanded to include members across the US and different types of institutions.
There has been growing transatlantic interest in students from the UK studying in the US, particularly since the rise in tuition fees.
The Sutton Trust education charity has announced that it will run a summer camp to help disadvantaged youngsters apply to US universities.
There have also been increasing attempts to recruit UK students for European universities, with a growing number of courses being taught in English.
Utrecht University in the Netherlands has been touring schools in England, and Maastricht University has suggested that it should be able to join the Ucas admissions system.