Independent schools reflect UK's ethnic mix, data shows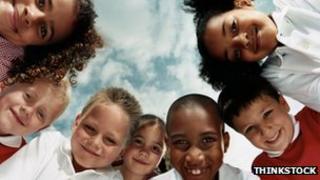 One in four pupils at independent schools in the UK is from a minority ethnic background, data suggests.
A census for the Independent Schools Council shows 74.5% of pupils (280,671) are from white British backgrounds and 25.5% (95,904) are from minorities.
The census also shows overseas pupils make up 5.2% (26,376) of the pupil population in its schools - 37% of these are from Hong Kong and China.
This is a rise on 2011, when the census counted 24,554 non-British pupils.
The census for 2012 - completed by all 1,223 of the ISC's schools - does not detail whether pupils from minority ethnic backgrounds are British or foreign nationals.
But if boarding pupils (who will account for many of the 26,376 overseas children) are removed, the proportion of minority pupils rises to 28.5%, suggesting the majority of these pupils are British nationals.
Data released by the Office for National Statistics last May showed the non-white British population of the 54m people in England and Wales had grown from 6.6m in 2001 to 9.1m in 2009 - or nearly one in six.
A University of Leeds study predicts the proportion of black, Asian and other ethnic minorities will rise from 8% of the UK population, as recorded in the 2001 census, to 20% by 2051.
Rudolf Eliott Lockhart, the ISC's head of research, said: "The picture I get from this is that the proportion of ethnic minority pupils in our schools reflects their proportion across the whole of the UK.
"I think it reflects wider British society - this is the ethnic mix we see in the UK and it's as true in independent schools as maintained schools.
"Whatever their ethnicity, people do aspire to the quality of education that our schools provide."
Pupil numbers
The census also shows an apparent 0.1% rise in pupil numbers on last year, from 504,224 in 2011 to 504,949.
However, these figures are based on the 1,209 schools that completed the census in both 2011 and 2012, so will not include any schools that have closed.
The average fee per term stands at £4,596 (excluding nursery schools).
The average boarding fee is £8,780 and the average day fee is £3,903 a term.
The ISC says 27% of schools reported an increase in pupils going overseas for their university studies.