Rise in care applications in England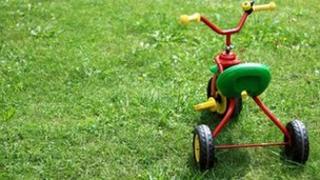 The annual number of applications from local councils in England to take children into care has exceeded 10,000 for the first time, data shows.
Figures released by the courts advisory service, Cafcass, show 886 care applications were made in March, taking the full figure for the year to 10,199.
At the same point last year, 9,202 care applications had been made.
The rise in care applications follows the publicity given to the death of Baby Peter in London in 2007.
Cafcass says applications received between May 2011 to February 2012 this year have been the highest it has ever recorded.
The current figure is 10.8% higher than the same period last year.
January 2012 saw the highest ever number of care applications recorded in an individual month, with 912 applications.
Chief executive of Cafcass, Anthony Douglas, said this was the first time care demand figures had broken the 10,000 mark over a 12 month period.
"These consistently high figures for the year have really tested the resilience of our staff and our systems, but we have continued to be a strong organisation that serves the best interests of children.
"While Cafcass gathers this information and is of course impacted by the scale of this increase, all agencies need to realise we have to change the way we work collectively if the most vulnerable children in the country are to continue to receive strong public services in these tough times.
"Having said that, this rise shows that all agencies are working more quickly to ensure that children are removed from deeply damaging households where many have been for some time and are showing a lower tolerance for poor parenting."
Mr Douglas said figures from other UK nations indicated similar increases in the numbers of care applications.
Cathy Ashley, chief executive of the Family Rights Group said: "The care system is really struggling to cope with the rising numbers of care order applications.
"There are court delays, children bieng put in temporary placements or moved around with little notice, siblings are being split up and there is a significant shortage of foster carers.
"The closure of key early intervention and preventative services, such as refuge places for abused mothers, is worsening this terrible situation."
Ms Ashley called for more to be done early on to help members of children's wider families, for instance older siblings and grandparents, to take on the raising of children unable to live with their parents.
Baby Peter
There was a sharp leap in the numbers following the conclusion of the trial over Baby Peter Connelly death at the end of 2008, and they have continued to rise in the years since.
Seventeen-month-old Baby P, Peter Connelly, died after suffering more than 50 injuries in Haringey, north London, in August 2007.
The child's mother and two men were jailed for causing the death, while a series of investigations subsequently identified opportunities when officials could have saved him if they had acted properly on the warning signs.
The BBC's local government correspondent, Mike Sergeant, said the new figures did not indicate an underlying social deterioration but rather that councils were becoming more risk averse and were intervening more quickly when children were thought to be at risk.