School rules checklist aims to improve behaviour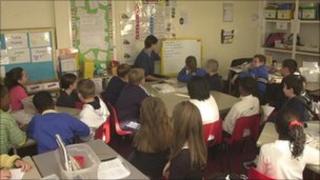 Pupils in England should be punished as soon as they break school rules, even for minor transgressions, says the government's adviser on behaviour.
Charlie Taylor, who is head teacher at Willows Special School in Hillingdon, north-west London, says teachers and staff should also be disciplined if they break rules.
Mr Taylor recommends schools introduce "checklists" to improve discipline.
He says this will ensure everyone knows the ground rules at the school.
Mr Taylor says the checklist is based on a similar scheme introduced to hospitals by surgeon Atul Gawande.
The surgeon was concerned at the number of patients suffering serious complications after operations and realised many of the cases were down to staff failing to follow basic procedures, such as not washing their hands.
He introduced a checklist to be read out before each operation to ensure basic, essential rules were followed.
Poor teaching
The Department for Education says the behaviour checklist is designed to be used by schools and teachers to run through in the morning and afternoon to check that basic behaviour rules are in place.
The checklist should outline the expected standard of pupils' behaviour and ensure school rules are displayed clearly in classes and around the building.
It should outline how children will be rewarded for good behaviour and punished for bad.
The checklist should also detail how poor teaching will be tackled and commit senior staff, like the head and assistant head, to being a visible presence around the school during the day.
Mr Taylor said: "As a head teacher, I know that where there is inconsistency in schools, children are more likely to push the boundaries.
"If a pupil thinks there is a chance that the school will forget about the detention he has been given, then he is unlikely to bother to turn up.
"If he gets away with it, the threat of detention will be no deterrent in the future.
"The checklist sets out for all schools the simple but essential things to get right to ensure strong discipline, and therefore strong teaching.
"Teachers can run through the checklist first thing in the morning and again after lunch to ensure the correct preparations."