Survey: 'Costs' and 'fun' dominate views of university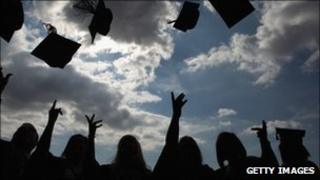 Words such as "expensive", "fees" and "cost" dominate in the words UK residents most associate with universities, research suggests.
"Expensive" had most mentions (775), followed by "fees" (171). But more than half those asked why people went to university said "fun".
And respondents were still five times as likely to recommend higher education to young people than to not do so.
The survey of 4,000 people was carried out by YouGov-Cambridge.
The results were than analysed by the Pearson Centre for Policy and Learning, run by the publishing firm Pearson.
The government, which has raised fees in England, said students should not be put off by the cost of university or by failing to understand the new funding system.
Respondents were asked how likely they were to recommend higher education as a career option for young people, on a scale of 0 (not at all likely) to 10 (extremely likely).
In total, 69% answered six or above, while 16% answered four or below.
Those aged 55 and above were the most enthusiastic advocates of university education, with 50% answering eight or above, compared to only 42% of 18-34 year olds.
Regionally, respondents from Scotland - where home students do not have to pay tuition fees - were most in favour of higher education.
About 53% in Scotland answered eight or above, compared to 50% in London, 48% in the east, and between 42% and 45% elsewhere.
And working class respondents were less likely to chose eight or above (42%) than their wealthier counterparts (47%).
'Lazy'
In terms of associations, cost-related words dominated.
Positive words such as "important" (116 mentions), "opportunities" (107) and "essential" (51) also cropped up relatively frequently.
But there was a range of negative associations too, including "elitist" (64) "waste" (77) "lazy" (18), "pointless" (15) and "unnecessary" (14).
Alcohol also made an appearance, mentioned six times, together with "drinking" (6), "parties" (13) and "drunks" (5).
And when those questioned were asked for one single word that explained why people chose to enter higher education, more than half - nearly 57% - said "fun".
This was far more than for words such as career (5.1%) and "ambition" (4.4%).
A spokesman for the Department of Business, Innovation and Skills said a degree was an "excellent investment".
"Most students will not pay upfront costs, there will be more financial support for those from disadvantaged families and everyone will make lower loan repayments than they do now once they are in well paid work.
"It is important that no-one is put off applying to university because they do not understand the new system," the spokesman added.
'Chaotic policy'
But Liam Burns, president of the National Union of Students, said: "When it is younger generations and those from poorer backgrounds who are less likely to recommend higher education, we really are in trouble.
"There are of course many factors that will influence a potential student's perception of higher education but I would hardly be surprised if the government's chaotic policy of trebling tuition fees isn't a significant one."
Universities in England will be charging tuition fees of up to £9,000 - nearly three times the present level of just over £3,000 a year.
The fees will be paid upfront by the government, in the form of loans paid back once the graduate begins earning £21,000.
Welsh universities are also raising their fees to as much as £9,000, although Welsh students will have the increase subsidised wherever they study in the UK.
Scottish students studying in Scotland pay no fees, but the Scottish government has proposed allowing universities to charge up to £9,000 a year for students from other parts of the UK.
Northern Ireland's ministers have said there will be no major rise in fees in its universities in 2012.