Many vocational courses axed from league tables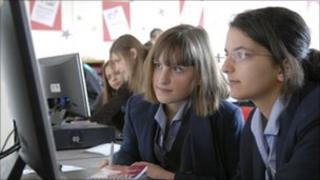 Lower quality vocational qualifications which can count for several GCSEs are to be axed from England's school league tables, the government says.
It said it was bringing in "strict new criteria" from 2014 for the practical courses included in the tables.
Courses will only be able to count as equivalent to one GCSE - not up to six as at present.
But music exams, for example in violin or piano, are to be counted in the tables for the first time.
Exams passed at grade 6 or higher will be included.
The English Baccalaureate (EBacc) subjects will not change, however, despite calls for more breadth.
The EBacc is awarded to pupils achieving A*-C passes in maths, English, two science qualifications, a language and history or geography.
The Department for Education and media create league tables in which schools can be ranked on the proportion of their students getting the benchmark measure of five A*-C passes, including maths and English.
The government has long argued that including a wide range of qualifications as GCSE equivalents in the tables can create "perverse incentives" for schools to offer lower quality qualifications.
Under the current rules, the number of vocational equivalent courses has expanded from 15,000 in 2004 to 575,000 in 2010.
From January 2014, "only the highest quality qualifications" will be included in the tables, the Department for Education said.
Vocational courses will only count as GCSE equivalents if they include external assessment, have been taught widely for two years, offer broad progression into occupational areas and are graded A*-G.
A maximum of two non-GCSEs will be allowed to count towards the five GCSE passes indicator.
'Damaging impact'
Professor Alison Wolf, who authored a government-commissioned review of vocational courses published earlier this year, said schools had been "under enormous pressure to pile up league table points".
"When any qualification under the English sun can contribute to these, the pernicious effects are obvious," she said.
Schools Minister Nick Gibb said the changes were "long overdue".
"Young people should be taking only the best qualifications in academic and vocational subjects that allow them to progress," he said.
The Association of School and College Leaders said Prof Wolf was right to identify "problems" with the use of non-GCSE equivalents.
But policy director Malcolm Trobe said the new tables would put schools under pressure to offer only the courses that are included.
"This could mean some courses of immense value to certain students are lost," he said.
The National Union of Teachers said qualifications were used as a "political football" by past and current governments.
It called for a "fundamental reform" of a "system which is used more as punishment than a true reflection of what schools are doing".
Asdan, which offers a series of certificates in subjects such as "working with others" and "personal effectiveness", said it was "extremely optimistic" that it could work with the government to ensure its qualifications were fit for purpose.
But chief executive Marius Frank said the league tables changes might have a "damaging impact" on weaker learners, especially by including only A*-G graded qualifications.
"It's not that rewarding if you struggle for years and years and can't even get a G," he said.
Asdan offered "bite-sized courses" which "enable very weak learners to taste success and build on it", which he said he hoped to see acknowledged in the tables alongside "elite measures", he said.
The DfE said schools were expected to teach "high quality" vocational qualifications from September 2012.
The GCSE performance indicators are used to identify underperforming schools, which the government is encouraging - and has the ability to force - to convert to academy status.
The school performance tables are also being expanded to show a wider range of information.
Measures introduced from 2011/12 will include:
the performance of pupils in care and receiving free school meals
the performance of pupils grouped according to their levels of attainment on leaving primary school
progress measures for each subject included in the English Baccalaureate
However, despite calls for subjects such as religious education and music to be included in the EBacc, the Department for Education said Education Secretary Michael Gove was "minded to leave the subjects unchanged".
The Religious Education Council of England and Wales said that excluding RE from the EBacc was already causing a drop in the number of schools offering it as a GCSE and would "gravely weaken" the subject.