'Unqualified students' gaining university places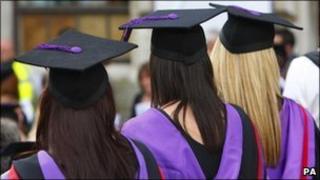 More than a third of those starting university in England last year did not have any recognised entry qualifications, a report suggests.
A Higher Education Policy Institute report says two-fifths of these students had achieved fewer than two E grades at A-level.
Some, particularly foreign students, will have qualifications not recognised by Ucas.
Others will have taken access courses aimed at those without qualifications.
The Hepi report looks at future demand for higher education in the UK.
Second chance?
It finds that the biggest growth in applications has been among the least qualified group - defined as those with fewer than 80 Ucas points - the equivalent of two A-Levels at grade E.
It says that nearly half of the increase in applicants between 2008 and 2010 through the UK admissions service, Ucas - was accounted for by people with no tariff points. This is the system by which points are awarded for qualifications.
It says: "What is curious is that whereas in the past higher education numbers went hand-in-hand with A-level numbers, in recent years the rate of increase in higher education entry has been about twice that of the number of A-level passes."
The report adds that some 51,273 of "unqualified" students missed out on university places last year.
It warns, however, that these "unqualified" students are not a "homogenous group".
Report author and Hepi director Bahram Bekhradnia said: "Quite a lot of them will have no qualifications at all, it is true - but others will have overseas qualifications and some Level 3 qualifications which Ucas does not for one reason or another recognise in its tariff system."
Squeeze
It adds: "It is one of its strengths that the UK's higher education system - and a feature that sets it apart from most others in Europe - that such second chance higher education is possible."
At the same time the report confirms that a higher number of qualified students failed to gain a place at university last year.
It estimates that 17% of university applicants, or 62,000, were qualified enough to gain a university place, according to the Ucas tariff, but did not do so.
This is considerably lower than the overall numbers of people who failed to gain a place who have been logged by Ucas - more than 200,000.
The difference is accounted for by removing the unqualified demand, overseas students and those who withdrew from the process.
The report describes unsatisfied qualified demand for university places as "significant" and growing rapidly. It follows what the report calls "a significant policy change" in 2008 when ministers began to limit university places and the "squeeze on student numbers began".