Rio 2016: Violence seeps back into city's favelas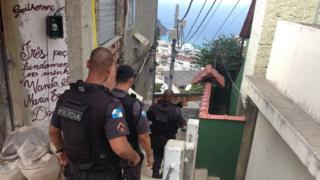 The spectre of an Olympic Games plagued by the Zika virus may be waning, as the cold spell sweeping through southern Brazil deals with disease-carrying mosquitoes more effectively than any repellent.
But there are still many real problems and concerns for Rio 2016 organisers with two weeks before the opening ceremony in the Maracana Stadium.
The biggest of those worries is the return of violence and crime to the streets of the so-called "Marvellous City" after years of steady progress in a positive direction.
The worrying reverse is most notable in the favelas, or shantytowns, that skirt Rio's more affluent south zone.
What has gone wrong in Brazil?
Read full article Rio 2016: Violence seeps back into city's favelas