Rio losing its battle to clean up waterways for the Games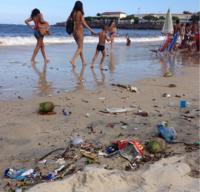 With just over 500 days to go before the 2016 Olympic Games open in Rio de Janeiro, work is continuing around the clock to complete the sporting venues. But the BBC has seen startling scientific evidence which suggests a requirement to clean the city's polluted waterways in time for the Games will not be fulfilled.
From the air you can see Rio's Olympic Park, in the Barra zone to the south of the city, taking shape.
From a distance, it looks pretty spectacular but up close the view and the smell is much less appealing. With deadlines looming to complete the sporting venues, the waters around the park have been completely neglected.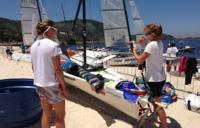 The chemically overloaded lime green lagoon, which surrounds it on three sides, is fed by several small jet-black rivers, full of untreated sewage.
"Every river around here is practically dead, because they are full of sewage," says the biologist Mario Moscatelli who has long campaigned against the way these once pristine lagoons have been destroyed.
Read full article Rio losing its battle to clean up waterways for the Games