Argentina's Macri faces no shortage of challenges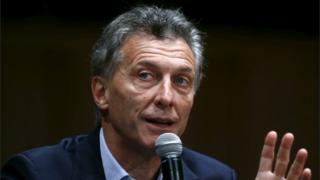 The most striking thing about Mauricio Macri's first news conference as president-elect of Argentina was, well, that there was a press conference at all.
Argentine journalists have become accustomed, after eight years under Cristina Fernandez de Kirchner's presidency, to getting little or no access to the person at the top.
For all her appearances at inaugurations of public works or rousing speeches before the Peronist party faithful, President Fernandez de Kirchner rarely exposes herself to scrutiny and even less so to the kind of open press forum that enables journalists to question and probe the work of her government.
Not that Mr Macri was particularly illuminating or generous with detail, particularly when asked about the specifics of his plans to turn around Argentina's precarious economy.
But at least he made the effort to engage and respond to questions.
Restoring confidence
Read full article Argentina's Macri faces no shortage of challenges