The complex world of art sales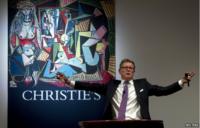 So Picasso's Women of Algiers (version O) has been sold for a record-breaking sum - going for $160m (£102.6m) at Christie's in New York.
Other than the high price, the transaction appeared fairly straight-forward. There's a seller, an (anonymous) buyer and an auctioneer to conduct proceedings.
But the opaque nature of the art world means trophy sales, such as the one last night in New York, are rarely that simple.
The auction houses are desperate for top-quality product and will go to great lengths to secure grade A works for their most prestigious sales. They might, for example, waive their fees for selling the work.
On occasion, they may even offer a guaranteed price to the owner, whether the work sells or not.