Dali's last great (posthumous) artwork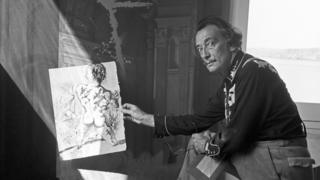 This whole Dali exhumation business is weird. It's right up there with any of his surreal artworks for its sense of the macabre and otherness. Nothing about this story is straightforward.
Let's start with where he is buried. Having died in 1989 and then been embalmed by Narcis Bardalet (who said he thought Dali would have found this whole affair hilarious), he was buried under the stage of his Theatre Museum in Figueres, north east Spain.
A crypt was created that the public can visit where they can see a large memorial stone marking his burial place. But that was not the point of entry for Thursday night's exhumation. That was upstairs in the huge geodesic domed hall that was once the old theatre's main stage.
Bang in the middle of the space, embedded in the floor, is a massive one-and-a-half tonne, unmarked stone slab, which thousands of people once walked over every day without any idea that they were treading on the great surrealist's grave.
Now, though, they will know - as it has become famous for being the place where the forensic scientists accessed the artist's remains.