The dressing up of Narendra Modi
18 May 2015

From the section

India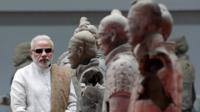 "Make way, Tom Cruise. Modi's the new top gun", screamed a headline in The Times of India over the weekend.
It was alluding to one of the most striking by-products of last week's grand summit between India and China: a torrent of astonishing images emanating from Prime Minister Narendra Modi and his government's feed.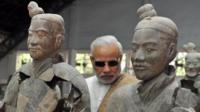 Here is Mr Modi, Matrix style in black sunglasses, standing warrior-like behind two Terracotta Army soldiers which, according to The Times, "broke the internet faster than Kim Kardashian's gleaming gluteus maximus".
Here is a beaming Mr Modi posing for a matey selfie with Chinese Premier Li Keqiang, provoking the Washington Post to quip that the Indian prime minister "knows the power of a good selfie".
Both images were hits on social media, retweeted and liked with enthusiasm.