Why are Indian gurus selling noodles?
10 February 2016

From the section

India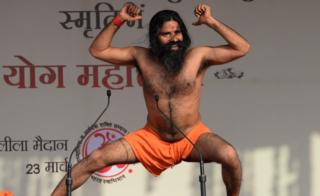 Why do Indian gurus sell noodles - and much more?
Popular yoga guru Baba Ramdev is behind one of India's fastest-growing consumer goods companies. Forbes magazine calls his Patanjali empire the "Indian version of Body Shop".
The saffron-robed, bearded Mr Ramdev sells honey, health drinks, fruit juices, sweets, cookies, spices, tea, flour, muesli, pickles, soap, balms, shampoos - and noodles.
An avid supporter of Prime Minister Narendra Modi, he has taken on Nestle's hugely popular Maggi instant noodles. Despite early concerns about the quality of his noodles, he is promoting the brand as a healthy alternative to similar food products. The guru's noodles are cooking well in the market.
Thriving business
Encouraged by Mr Ramdev's commercial success, another guru, Gurmeet Ram Rahim Singh, has unveiled his own line of food products.