Did a meteorite kill a man in India?
10 February 2016

From the section

India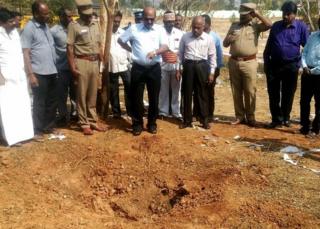 Did a meteorite kill a man in India last week?
As far as we know, an object fell from the sky into the campus of an engineering college in the southern city of Vellore in Tamil Nadu state on Saturday.
The explosion left a crater on the ground, blew out the window panes of nearby buildings, the windshields of parked buses, shattered a water tank and sent debris flying. The victim, a bus driver, was reportedly standing near the site of impact and was killed.
There appear to be no eyewitnesses to the moment of impact, but the college principal was among those who reached the spot first after hearing a loud blast.
"I was in my office at that time, and we felt a vibration in the building for nearly a minute. All the students and faculty members came outside and we saw a cloud of dust. Such was the intensity that a water tank exploded, killing the bus driver who had gone to drink water," G Baskar told The Hindu.