India's 'dead' car auctions: Where you can get a Porsche for $7,000
5 February 2016

From the section

India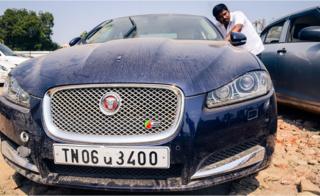 In the middle of a sprawling yard lined with used cars, Jambu Kumar is hunting for a Mercedes Benz sedan.
The 29-year-old did not own a car until six years ago. His father, a pawnbroker, drove a scooter all his life. In 2009, Mr Kumar, who runs a small automobile spare parts business, bought a Skoda, becoming the first person in his family to own a car.
When Mr Kumar heard from friends that cars damaged in last year's deadly floods in the southern city of Chennai (Madras) were being auctioned, he drove down to the yard.
The car enthusiast is looking to pick up the Mercedes he has always dreamt of owning, and never had the money to buy. He has a budget of a million rupees ($14,677; £10197).
"My wife said if you go the auction, you must return with a Merc. So I am looking for a bargain. If he was alive, my father would have been proud of me," says Mr Kumar.
Spurring dreams
Read full article India's 'dead' car auctions: Where you can get a Porsche for $7,000