Salman Khan: Bollywood's popular 'bad boy'
6 May 2015

From the section

India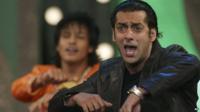 Salman Khan has been the "bad boy" of Bollywood for as long as anyone can remember.
The brawny 49-year-old superstar has appeared in more than 80 films in his nearly three-decade-long career. Khan has played a range of popular roles - from the cloying romantic hero to a flashy action star. Popularity chased him swiftly to the small screen when he become the convivial host of Bigg Boss, the popular Indian version of Big Brother.
Behind the glitter, Khan appeared to have a dark side.
He was accused by a former girlfriend - a famous actress herself - of abusing her. There were reports of frequent scraps with fellow stars. On a hunting trip with friends in 1998, he allegedly killed two black bucks, a protected antelope species. (A trial has been going on for years.) Four years later, he drove his Toyota Land Cruiser over homeless pedestrians sleeping on a pavement in Mumbai, killing one and injuring four others. The incident underlined the glaring inequalities in India's financial and entertainment capital which is said to have more billionaires and homeless people than any other metropolis.
The law caught up with him on Wednesday, and Khan was found guilty and sentenced to five years in prison. But many say his behaviour - like that of fellow star Sanjay Dutt who is serving time for firearms offences linked to the 1993 Mumbai blasts - also showed how rich Indians enjoy and abuse their power with impunity.
Read full article Salman Khan: Bollywood's popular 'bad boy'