How PM Modi destroyed rivals in India's Uttar Pradesh
11 March 2017

From the section

India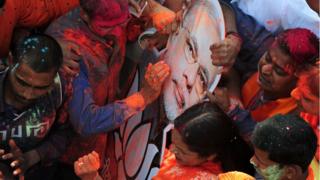 The ruling Bharatiya Janata Party's (BJP) decisive win in elections in India's politically crucial state of Uttar Pradesh - it sends 80 MPs to the lower house of parliament, has produced nine prime ministers, and is located next door to the capital, Delhi - is clearly being seen as a referendum on Prime Minister Narendra Modi.
Mr Modi was the face of the campaign in the absence of any clear chief ministerial candidates.
Mixing rhetoric with promises of development, he campaigned hard against what looked like formidable opposition - a coalition of the ruling regional Samajwadi Party (SP) and the Congress, headed by the young satrap Akhilesh Yadav, and the powerful Bahujan Samaj Party, (BSP) led by Dalit leader Mayawati.
So what does this victory mean for his party?
For one, the balance of power in India has now decisively swung in favour of the BJP, and reinforces the party's position as the central pole in India's politics.
Read full article How PM Modi destroyed rivals in India's Uttar Pradesh