Can Rahul Gandhi revive India's Grand Old Party?
11 December 2017

From the section

India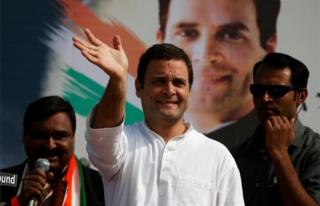 Rahul Gandhi's ascension to the leadership of India's 132-year-old Congress party comes at a time when it is struggling to stay relevant.
Mr Gandhi's appointment was confirmed on Monday, days after he filed his nomination papers for the post. There were no other contenders. He will officially take over on 16 December.
The Congress, the country's largest opposition party, won less than 20% of the popular vote in the seismic 2014 general elections which catapulted Narendra Modi's BJP to power. It secured just 44 - or 8% - of the 543 parliamentary seats in its worst performance ever.
Since then, the Congress has lost elections in half-a-dozen states, and is now in power in only two big states - Karnataka and Punjab - and three other smaller ones. Its prospects in two imminent state elections - Gujarat and Himachal Pradesh - look mixed.
Voters in cities and villages have deserted the party in droves - between 2009 and 2014, the Congress lost more than 9% of the popular vote, bleeding support across castes and minorities. "It is a party bereft of a social constituency of its own," says political scientist Suhas Palshikar.
Read full article Can Rahul Gandhi revive India's Grand Old Party?