Why can't the world keep its promises?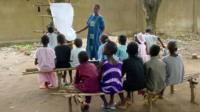 In April 2000, in a wave of new millennium optimism, world leaders promised to deliver something at the beginning of the 21st Century that in many developed countries had been taken for granted by the end of the 19th Century:
Primary education for all children.
This basic gap was going to be fixed within 15 years, so that by April 2015, the unacceptable position of millions of children never even beginning school would be consigned to history.
This was one of six Education for All pledges, which included targets such as girls having equal access to learning, and a halving of adult illiteracy.
Kofi Annan, UN secretary-general at the time, said that getting this completed by 2015 would be the "test of all of us who call ourselves the international community".