One school, four catchment areas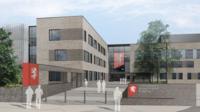 One school, four catchment areas? Would that be a fairer way of running admissions or a recipe for an even more Byzantine way of prioritising applications?
The rising school population is putting more pressure on places at popular schools - and raising the thorny question of school admissions.
The most common way of prioritising applications is how close pupils live to a school.
But where you live is inextricably linked to income, and sought-after schools can end up with catchment areas that are tight halos of inflated property prices.
A major study last year suggested that using distance from home to school to decide admissions was one of the biggest drivers of social division in the school system.
Bucking the housing market