Will London's mayor put the brakes on Uber?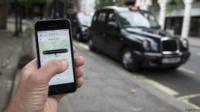 It is the new technology superpower, promising to transform the way we travel and much else, and London is one of its most important bases. But now the car service Uber is at the centre of a major political battle, and the new Conservative government has a tricky choice to make.
London's mayor Boris Johnson, who has until recently been seen by taxi drivers as far too kind to Uber, is now backing new laws which could put a stop to its growth. The newly elected MP for Uxbridge is pushing for the inclusion in next week's Queen's Speech of a proposal to cap the number of minicab licences in London.
In the last year, the regulator Transport for London says the number of private hire vehicle licences has risen from 52,000 to 77,000, and most of that increase is made up of new Uber drivers. Another 1,200 private hire drivers are swelling that total every month, according to the Licensed Taxi Drivers Association (LTDA), which lobbies for the traditional black cab drivers.
The LTDA applauds Johnson for tackling what it says is becoming a pollution problem affecting the lives of all Londoners. Its chief executive Steve McNamara says the capital is suffering growing congestion as an increasingly desperate pack of Uber drivers move constantly from one resident parking space to another as they wait for a customer.
Uber, of course, sees it very differently. The Californian firm is lobbying hard against what it believes is simple protectionism. It cites the average speed of Uber cars through London, up by 9% since it arrived in 2012, as proof that it is not responsible for congestion. And it says further growth in its network is needed so that it can launch its UberPool service here, allowing several customers to share the same car, cutting congestion and costs.
Read full article Will London's mayor put the brakes on Uber?