Tech Tent: Fake videos stir distrust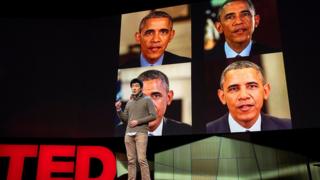 We have already had to wake up to fake news - will we soon have to stop trusting video and audio news too as artificial intelligence makes it easier to create convincing fakes?
On Tech Tent this week we look at the advances in technology which allow you to get anybody to say anything, and explore their implications.
It was a video featuring Barack Obama talking about a character from the hit movie Black Panther, and then making a crude remark about Donald Trump, which raised new concerns about this subject. It was not of course genuine - the actor Jordan Peele's voice had been synced to the lips of the former US president.
The video was created by Buzzfeed using software called FakeApp, a freely available tool which has also been used to superimpose the faces of celebrities into porn videos. The exercise was designed to get people thinking about the threat posed by these techniques,
Prof Dame Wendy Hall, one of the authors of a UK government report on artificial intelligence, explains what is making this fakery possible: "It's what's happening generally with AI - the development of new techniques, deep learning algorithm techniques that can learn from data, in this case video data." She says this is "quite scary".