Why have Osborne and Balls neutered themselves?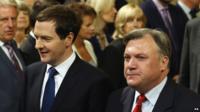 Over the years I have spoken to more chancellors and shadow chancellors than most people of my age (that is not a boast, just a sad fact about my preoccupations).
And typically they say it is a very bad idea to rule out changes to tax rates when making manifesto commitments prior to a general election.
Their point has been that it is impossible to know when the global or indeed domestic economy will go into some kind of spasm that would see a chancellor boshed on the noggin with a wet fish, that would see tax revenues suddenly undermined. And in those circumstances, it is best to retain the ability to boost taxes in whatever way seems appropriate.
However, whichever of Tory or Labour is in power after 7 May, the new government's chancellor will have his or her (surely got to be possible) hands bound and tied when it comes to fiscal matters.
Because both parties have now ruled out increasing the basic and 40% rates of income tax, the rate of National Insurance and the rate of Value Added Tax.
Read full article Why have Osborne and Balls neutered themselves?