How Osborne is bailed out by deflation
23 November 2015

From the section

Business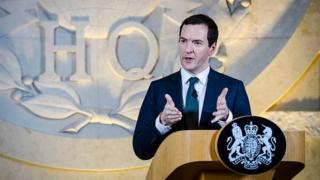 The weakness and current deflationary bent of the global economy plus the deceleration of UK growth aren't all bad for George Osborne, as he agonises over the finishing touches to what may be his most challenging budget or quasi-budget since taking office more than five years ago.
That may puzzle you given that Friday saw publication of government borrowing figures for October which were confirmation that there is no chance of public sector borrowing falling from just over £90bn last year to a target of just under £70bn in the fiscal year ending next April.
In fact, if public borrowing ends up around £80bn, or around £10bn adrift of the goal, that would not be a great shock, since with five months to go the deficit is less than £7bn below where it was at a comparable stage last year.
And there will also be a mildly embarrassing failure to hit one of the fiscal milestones Osborne loudly promised and swanked about in the last budget - namely debt as a share of GDP seems unlikely to hit its peak this year, which is what the Office for Budget Responsibility had expected.
So where on earth is the wriggle room for George Osborne to respond to the irresistible political and public pressure to soften the impact of his cherished tax-credit cuts, to exact a lesser cull of beat bobbies than had been expected and to strengthen our defences against terrorism?
Extraordinary era