Pacer trains may 'still have role' in North of England
6 February 2015

From the section

England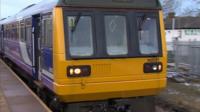 They are 30 years old, they were supposed to be temporary, and yet northern rail passengers find themselves rattling along inside them on a regular basis.
They are Pacer trains, introduced on to our railways in the 1980s as a quick fix for the lack of rolling stock. They are basically the body of a bus with train wheels bolted on.
They currently run on routes in Manchester, Merseyside, Lancashire, Cheshire, Yorkshire, Teesside, Northumberland and Cumbria.
New hope
It was thought they would have a maximum lifespan of 20 years. But they are still used regularly on the Northern Rail franchise.
Yet passengers were given new hope late last year when the Prime Minister appeared to confirm they would be consigned to history when northern routes are refranchised later this year.
Read full article Pacer trains may 'still have role' in North of England