Caravan, A Great British Love Story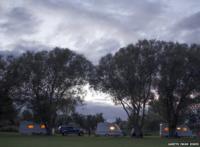 In the UK, the May Day bank holiday offers a chance to take a short break away from the daily grind, and for some people that means hitching up the caravan to the back of the car and heading into the countryside.
Inspired by fond memories of his childhood caravanning holidays in Southwold, Suffolk, photographer Gareth Iwan Jones turned his attention to this subject, the very British world of Caravanning.
"I've always thought of caravanning as a wonderfully eccentric, colourful world of quirky characters and interesting regalia that would make for a great photography project," says Iwan Jones. "It didn't disappoint."
Together with his wife, Iwan Jones stayed at more than 30 sites across the UK, from beauty spots to those not so picturesque spots near motorways, covering more than 2,000 miles.
"There is a unique union of canopy, awning and torrential rain that one can only experience in caravan and camping parks," he says.