Prince Charles' personal pilgrimage for adored relative
20 May 2015

From the section

UK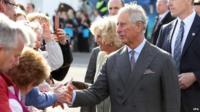 "I do wish I could come and see it," Prince Charles wrote to Lord Mountbatten about Classiebawn Castle - his godfather's County Sligo summer residence. "I know I would be captivated by it."
The letter was sent in 1979. In Mullaghmore this afternoon, the prince belatedly fulfilled that wish - and he also met some of the people who responded to the slaughter at sea more than three decades ago.
This was a personal pilgrimage by a future British king to an Irish seaside village in honour of a relative he adored.
It was also about achieving yet another little step along the path of an improving relationship between Britain and Ireland. It's what this royal visit has been about.
Prince Charles summed it up when he quoted these lines by the Sligo poet WB Yeats:
Read full article Prince Charles' personal pilgrimage for adored relative