The picture Farage wants to forget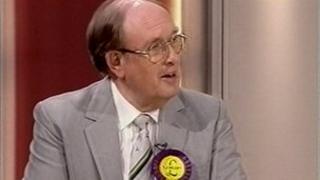 He talks like a UKIP MEP, he looks like a UKIP politician, right down to the rosette with the pound. But Nigel Farage seems to have developed a blind spot for Ashley Mote.
After Mote was convicted of fraud for a second time in Britain's biggest ever expenses scandal, the UKIP leader commented "I knew he was a wrong 'un."
"He was never a UKIP MEP I'm pleased to say. He was elected on a UKIP list. I found out very quickly and I kicked him out even before he took his seat."
But here is the picture Farage would rather forget. Mote in the South Today studio the day after the 2004 election count, one of two UKIP MEPs elected in the South East England constituency.
Mr Farage was top of the list, Mote was number two. It is perfectly true to say that when they realised the charges being brought against him, UKIP acted swiftly to stop him sitting with them in the Brussels Parliament, but they got him there in the first place.