Why a safe seat is the certain route to power
29 April 2015

From the section

England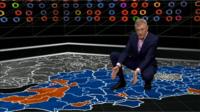 You can read the polls, talk to insiders, see which way the seaweed is blowing or talk to Jeremy Vine. But I can confidently predict the places in the South of England that will see the greatest turnover of MPs at this election.
Just look at the safe seats.
Whichever way people vote - tactically or with their conscience for the principle they believe in - the result is more certain than elsewhere, just because of the geography of the place.
And many of those seats have already chosen the replacement for their sitting MP.
Like Alan Mak selected to fight Havant - or North West Hampshire, where London Deputy Mayor Kit Malthouse has been selected to replace Sir George Young.
Read full article Why a safe seat is the certain route to power