A Tale of Several Cities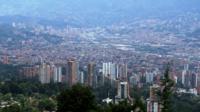 Suddenly, the mayor of Medellin got excited. He sped across his office where we had been talking and we clambered up a spiral staircase that took us right on top of the mayoral building: floor 12 or 13, where the helicopters land. He wanted to show off the city he is so proud of. The city that was, 25 years ago, the murder capital of the world.
The long hills form a steep river valley by which this booming place is constrained. Lit up by the sunset, Anibal Gaviria spoke at a rapid pace about the sense of open hilltop he wanted to preserve, even as the city expands by crawling ever higher up the hillside.
The remark that spurred this outburst of enthusiasm had been mine. We'd been standing in front of one of those huge aerial views that are the traditional feature of a mayor's office.
Visitors can learn a lot from them very quickly. For example, how rivers both unite and separate a city.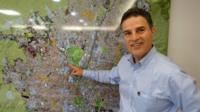 If you take a planner's view of the map, they create clear boundaries along which to run divisions of counties or countries. But (depending on water, flow and climate) they are also great uniters of people: natural thoroughfares between places along the river banks.