Election 2015: Midlands snapshots and predictions
30 March 2015

From the section

England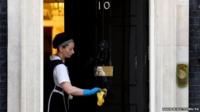 No Parliament. No MPs. Just candidates.
Today's dissolution marks the formal start of a five-and-a-half week election campaign. That's long by the standards of recent elections, even though for most of us it seems to have been full-on for an age already.
My earlier posts catalogue the famous Midlands marginals which have acted like a vicious two-party see-saw - while some clamber-on, others are unceremoniously thrown off.
In 2010, the Conservatives won 15 seats here and Labour lost 14 bringing their respective share of our 63 constituencies to 36 Conservatives, 24 Labour and 3 Liberal Democrats in the now-defunct Parliament.
How the numbers will stack up in May is anybody's guess.
Read full article Election 2015: Midlands snapshots and predictions