After 'northern powerhouse' - a Midlands 'energy catapult'
18 March 2015

From the section

England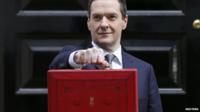 Exactly 50 days to go to the election comes a Budget which we'd been told would be crucial to the outcome.
Why?
Because polling suggests that just as Labour are most listened to when they are talking about the NHS - hence Ed Miliband's instant attack on Mr Osborne for making no reference to investment in the health service - it's the Conservatives who command attention when they talk about the economy.
Strategists call it "traction".
Our own BBC audience research suggests Midlanders do pay more attention to business-related stories than the average for viewers and listeners across the UK as a whole.
Read full article After 'northern powerhouse' - a Midlands 'energy catapult'