Why this is a very local general election
17 April 2015

From the section

England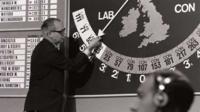 Only people with long memories have clear recollections of simpler times when Professor Robert McKenzie's swingometer could tell the story of successive general elections.
Our part of the country has long been a two-party affair to a greater extent than anywhere else in the country, so a straightforward device pointing this way and then that was almost invariably quite good enough to do the job.
But what, I ask myself, would we need to visualise the infinite variety of 2015?
The best idea I have managed to come up with so far goes like this.
Imagine you suspend a needle from a thread above a table on which you position magnets of varying strengths and political colours in a circle.
Multi-party politics