Hunt's Houdini act: What next?
15 July 2016

From the section

Health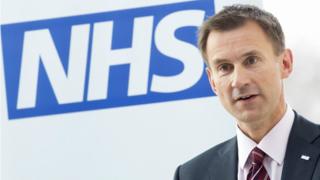 Barring the appointment of Boris Johnson as foreign secretary, the decision to keep Jeremy Hunt in the health brief in England was perhaps the biggest surprise of Theresa May's new cabinet.
Tipped for the chop ahead of the announcement, he ended up keeping his job - but only after it was widely reported he had lost it.
As the first Tory MPs started arriving at Number 10 on Thursday morning, it was suggested he had been sacked, prompting (as you would expect) a fair degree of jubilation among junior doctors on Twitter.
But Mr Hunt was to have the last laugh. The reports were wrong. They soon changed to claims that he was moving to another post before confirmation that he was, in fact, staying put.
A delighted Mr Hunt, who having served nearly four years is already one of the NHS's longest-serving health secretaries, later tweeted "reports of my death have been greatly exaggerated... thrilled to be back in the best job in government".