10 charts that show why the NHS is in trouble
8 February 2017

From the section

Health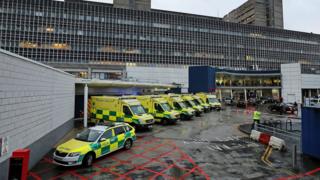 The NHS faces unrelenting pressure despite funding rising. Why?
The sheer scale of the NHS can take the breath away. Every 24 hours it sees one million patients, and with 1.7 million staff it's the fifth biggest employer in the world.
This vast enterprise absorbs eye-watering amounts of money.
1. We spend more on the NHS than ever before
Last year £140bn was spent on health across the UK - more than 10 times the figure that was ploughed in 60 years ago.
And that's after you adjust it for inflation.
2. A bigger proportion of public spending goes on health
Read full article 10 charts that show why the NHS is in trouble