How to make EU referendum debate fly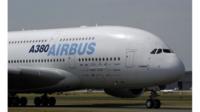 The debate surrounding the in-out EU referendum hasn't taken long to gather momentum.
There are a number of Welsh dimensions.
First of all, timing. David Cameron is facing calls to hold the referendum early, possibly next year.
You'd have thought this is something he will want to do but at the same time he also won't want to be rushed into negotiating new terms with the EU.
The first minister has already warned of the dangers of holding it at the same time as the assembly election in May.
JCB