Election 2015 TV debate: And the winner is…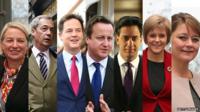 Who won? That is the question everyone will ask at 10pm tonight, so before anyone answers perhaps we should pause and ask something else: what on earth does winning a TV debate really mean? And how will we know?
Should we take seriously the instant polls of the few who choose to watch all two hours of seven party leaders arguing on the eve of the Easter holidays? Maybe not.
They are likely to be a small and pretty unrepresentative sample of voters as a whole. Not only that. They will include many whose minds were made up long ago. And the inclusion of the Scottish and Welsh nationalists means that most viewers will not be able to cast a vote for two of the leaders they are watching.
So, how about the verdict of Twitter or Facebook? Ditto. Social media lends a loudhailer to the committed, the partisan and organised.
What then about the sage words of the commentariat as they emerge from the hothouse of the "spin room"? Cramming political journalists, spin doctors and live cameras into a room is the best possible guarantee that the media "pack" will produce its own, not particularly reliable, conventional wisdom.
The 'undecideds'
Read full article Election 2015 TV debate: And the winner is…