Election 2015: It wasn't meant to be like this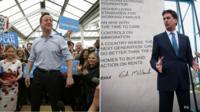 This isn't how this election was meant to go.
It's been marked by the lack of confidence felt by our political leaders rooted in the overwhelming lack of trust felt by most voters.
Why else would David Cameron promise to pass a law - not mentioned in his own manifesto - which would stop himself putting up taxes he's long pledged not to raise?
Why else would Ed Miliband resort to "carving in stone" pledges so broad and so general that it would be almost impossible to judge whether they've ever been broken?
Why else would we see the relentless political cross-dressing as the Tories promised to become the party of the workers and Labour the party of economic responsibility?
Read full article Election 2015: It wasn't meant to be like this