Trump raises spectre of 'imposter presidents'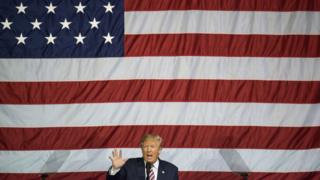 Sounding more like the potentate of some palm-dotted tropical island than a presidential candidate, Donald Trump twice declined to say during the final televised debate whether he would accept the results of the 2016 election.
The billionaire who has cast himself as the law and order candidate seemed ready to commit the democratic felony of refusing to accept defeat at the polls.
The property tycoon, who has regularly used legal action, and the threat of it, to build his business empire, appeared to cling to the hope that he could litigate his way to the White House - if, as seems increasingly likely, voters hand the keys to Hillary Clinton.
In a stab at damage limitation, he has since modified his position. Trump now says he will accept a "clear result," but reserves the right to mount a legal challenge in the event of a "questionable result".
But his original remarks, watched by millions of shell-shocked voters, are hard to walk back. He cannot evoke that old locker room maxim - what happens in Vegas, stays in Vegas.
Read full article Trump raises spectre of 'imposter presidents'