Oil change? Fossil fuel advocate to run State department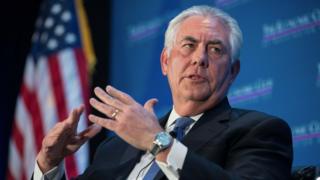 Good news for environmental campaigners: President-elect Trump has finally nominated someone to his cabinet who actually believes in climate change science.
The bad news for those same campaigners is that this true believer happens to be CEO of Exxon Mobil, and also sees fossil fuels as critical to humanity's survival.
Rex Tillerson is undoubtedly an unusual choice for Secretary of State, but perhaps less so when seen against the background of several other Trump nominees supported by the oil and gas industry, including former Texas Governor Rick Perry who is the pick for energy secretary.
Mr Tillerson may differ from the others on the causes of climate change, but he definitely subscribes to their view that an abundant supply of fossil fuels is critical to making America great again.
Turn off the taps
Last May, Mr Tillerson reiterated his company's perspective on climate change, delivered in his strong Texan twang, which dominated the Exxon Mobil Annual General Meeting in Dallas.
Read full article Oil change? Fossil fuel advocate to run State department