COP21: Fine words but divisions run deep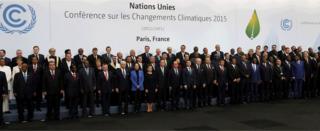 "We are on the front line; we will fall. It must not happen to anybody else," says the President of Kiribati, Anote Tong.
For our interview, he has come out into the main conference centre, away from the leader's compound, where heads of state and prime ministers have been speaking to delegates here all through the day.
President Tong called for a strong, legally binding deal and a moratorium on coal mining. It's too late for his people, he says. They are actively preparing to evacuate the coral atolls that they call home.
He took great encouragement from the speeches of the other leaders. This might just be the time when the world finally acts, he said.
Although they were supposed to talk for just three minutes each, most of the leaders took as much time as they wanted. And you wonder why this process has lasted 20 years?