How pharmacists push NHS services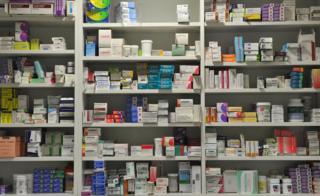 Documents obtained by the BBC reveal the techniques used by large pharmacy companies to maximise their income from providing certain services for the NHS in England.
The NHS pays pharmacies for extra services on top of the essential functions laid down in their basic contract. But questions have been raised about whether staff are pressurised into over-prioritising these opportunities to boost revenue or may treat them as a lucrative but perfunctory box-ticking exercise.
These services include Medicines Use Reviews (MURs), which assess whether patients are using their medication properly, and the New Medicine Service (NMS), which involves guidance to individuals given a new prescription for certain health conditions.
Under Freedom of Information, we obtained instructions issued to their branches about conducting MURs and NMS from the five largest pharmacy chains (excluding the supermarkets) - Boots, Lloyds, Rowlands, Superdrug and Well. The material includes advice on how to persuade patients to participate and stresses the profits that can be generated.
'Detrimental'
The documents disclose that Superdrug staff have been told: "Even though the patient has a choice of accepting or declining an MUR, it is important to make sure this is not emphasised during the conversation."