Migrant crisis: Will Merkel be left out in the cold?
27 January 2016

From the section

World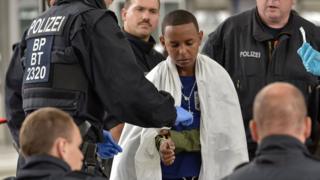 On the platform of Rosenheim station, the German police have got the reception of asylum seekers down to a fine art.
Twice hourly, the Austrian authorities put them on trains across the border, and the Germans are there to receive and process them.
Behind this practised routine though there looms a crisis for Germany and Europe. For the numbers arriving in Rosenheim and other centres in Bavaria are still so large that it has triggered a revolt against Chancellor Angela Merkel and her policy of allowing unlimited numbers of asylum seekers to come to her country from war zones.
As we watched people registering at Rosenheim, Inspector Benjamin Fretscher told me that arrivals there are running at between 800 and 2,000 a day. But when you include those getting to other centres in the southern German state, the total comes to 3,000-4,000 each day, officials told us off camera - a very different story to the 2,000 daily mentioned recently by Germany's interior minister.
That 3,000-4,000 figure could be politically ruinous for Mrs Merkel, for - at that rate - far from the steep cut promised for 2016 by the German government, this year's asylum seekers would far exceed last year's 1.1 million.
Read full article Migrant crisis: Will Merkel be left out in the cold?