Is the West losing its edge on defence?
14 April 2015

From the section

Europe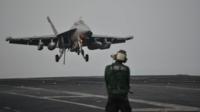 Speak to those who are in charge of the West's defence or have recently stepped down, as I did for Radio 4's programme The Edge, and you will find a very worried group of people.
They speak at length about the decline of their own forces, explain the growth of those of their challengers, and worry about the long term consequences for stability in many parts of the world.
"What we have seen in the last two decades is a form of physical and moral disarmament… we're in a very dangerous place," said General Sir Richard Shirreff, number two in Nato's military structure until last summer.
And the former deputy chief of the US Air Force Lt Gen David Deptula, explaining how America has bought far too few combat aircraft during the past decade, opined, "we have a geriatric air force".
But how can this be true when Nato and the US spend such vast sums of money on the military?