What is Putin's end game in Syria?
23 September 2015

From the section

Europe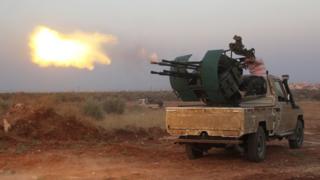 With Western policy on Syria in a state of flux could the timing of Russia's military move into that country be more perfect?
The operation to move dozens of combat aircraft and hundreds of troops to the aid of President Bashar al-Assad must have been given the green light some weeks ago, but think of what's been happening during the past 10 days as reports emerged of the Russians appearing at an air base near the Assad stronghold of Latakia.
With American policy stalled and arguments about the degree to which its bombing campaign has blunted Islamic State (IS), the president's envoy, retired General John Allen, and several other senior officials have decided to step down. Gen Allen was known to believe the US should harden its position on the overthrow of President Assad, and in the need for a safe zone in the north of Syria - instead the prospect seems to be slipping away of either happening.
Last week the US general running Central Command, the Pentagon's Middle East arm, went through humiliating testimony in front of the Senate Armed Services Committee in which he had to admit that the number of Syrian rebels trained under a $500m (£325m) US programme who had actually made it into the field could be counted on the fingers of one hand, and that plans for a safe area in northern Syria to protect civilians would be meaningless without ground troops, but he could not recommend the commitment of US soldiers on such a mission.
As for Britain, last week the National Security Council was considering ambitious proposals to commit forces to help protect civilians in northern Syria.